The Palestinian Working Woman Society for Development works to advocate for women's rights to peace and security on global and regional levels. Our campaigns focus on combating gender-based violence and the situation of women in Palestine, in addition to accountability mechanisms that help enable a gender-sensitive environment and ensure women's rights to protection, participation and accountability. Our lobbying and advocacy activities are also implemented in cooperation with other organizations and international partners. In 2019, PWWSD has conducted several advocacy and lobbying activities:
PWWSD participated in the Regional Campaign on Zero Tolerance for Violence Against Women and Girls that was launched on 2-3 May 2019 in Amman, Jordan in the frame of the project "Combating Violence against Women in the Southern Mediterranean Region", funded by the EU. The project aims to follow up and monitor the governmental commitments in the area of VAWG, liaise with concerned stakeholders, make an assessment of VAWG policies, identify gaps and provide recommendations. The launching conference gathered about 140 participants from 14 countries in the Euro-Med region. The participants represented ministries, institutions, political parties, CSOs and CBOs. They also included members of parliaments, gender and legal experts and activists, journalists and researchers. Following the launching of the mentioned project, PWWSD also participated a regional experts roundtable "Combating Discrimination Against Women in Legislation" carried out by  the Euro Med Feminist Initiative (EFI) organized on 17 June 2019 in Beirut, Lebanon, The roundtable gathered 26 legal and gender experts and researchers from Algeria, Egypt, Jordan, Lebanon, Morocco, Palestine, Syria, Tunisia, France and, Sweden, as well as representatives from the Office of the Minister of State for Economic Empowerment of Women and Youth (EEWAY) and the EU Delegation to Lebanon. At a third level, PWWSD participated in a Regional Experts Roundtable "Promoting Gender Equality through Education" that was held on 18 June 2019 in Beirut, Lebanon. The roundtable gathered 27 legal and gender experts and researchers from Algeria, Egypt, Jordan, Lebanon, Morocco, Palestine, Syria, Tunisia, France and Sweden, as well as representatives from ministry of education from Jordan and Lebanon.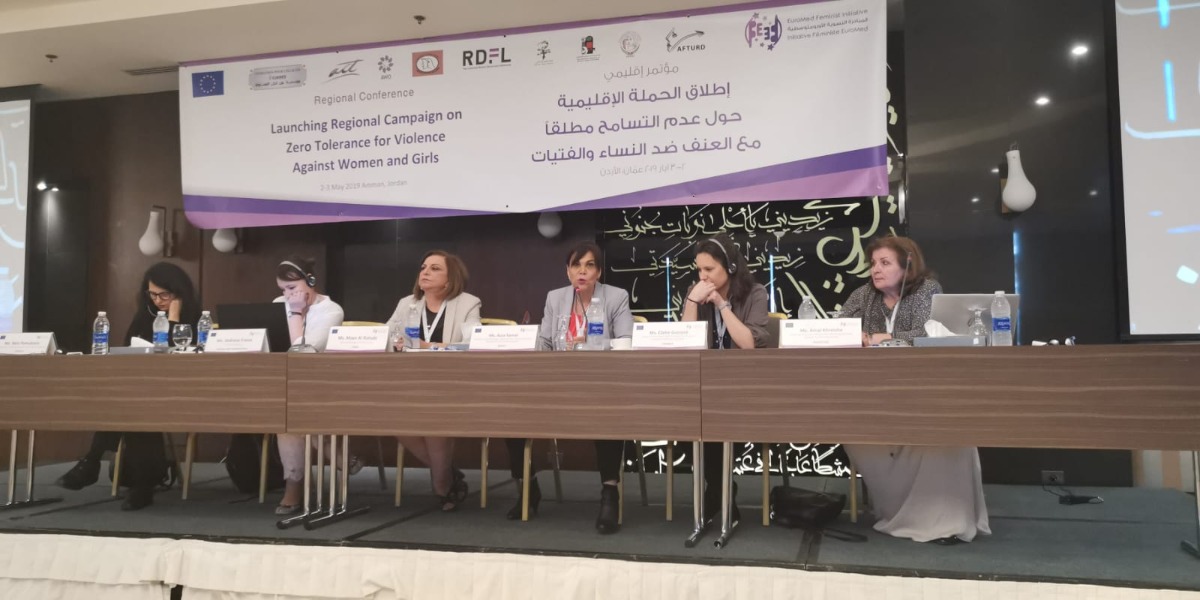 (PWWSD at the launching of the campaign on Zero Tolerance for Violence Agianst Women and Girls, May 2019) 
PWWSD also participated in an Inception Workshop carried out by KARAMA Network during the period 9-14 February 2019, in Tunis. The goal of the Inception Workshop was to introduce Karama's Adolescent Girls Initiative to the MENA partners and to reach an understanding about a new approach to work in this area. This was done through exchanging knowledge, reflecting on a range of issues surrounding work with AG and exploring strategies for deepening and expanding the work with AGs. The workshop aimed to learn about the partners' work, about common approaches and challenges to working with AG, and to envision new approaches.
PWWSD participated in the 63rd Session of the Commission on the Status of Women that was held between 15- 20 March 2019, in New York, USA. Through the delegation supported by Karama, PWWSD attended the CSW 63 with a participation in the following Karama-sponsored activities:
Accountability Workshop: The workshop aimed to address weaknesses in international Women, Peace and Security accountability mechanisms, and determine what effective and sustainable mechanisms would look like.
Roundtable with the Chairman and President of CSW 63: to follow up on an identical event a year earlier, during CSW62.
Press Conference: to speak about the status of women and WPSA in Arab countries.
Luncheon Event: the event enabled representatives of missions' members of Security Council to respond to the many questions of women activists about the role of Security Council to maintain global security and justice.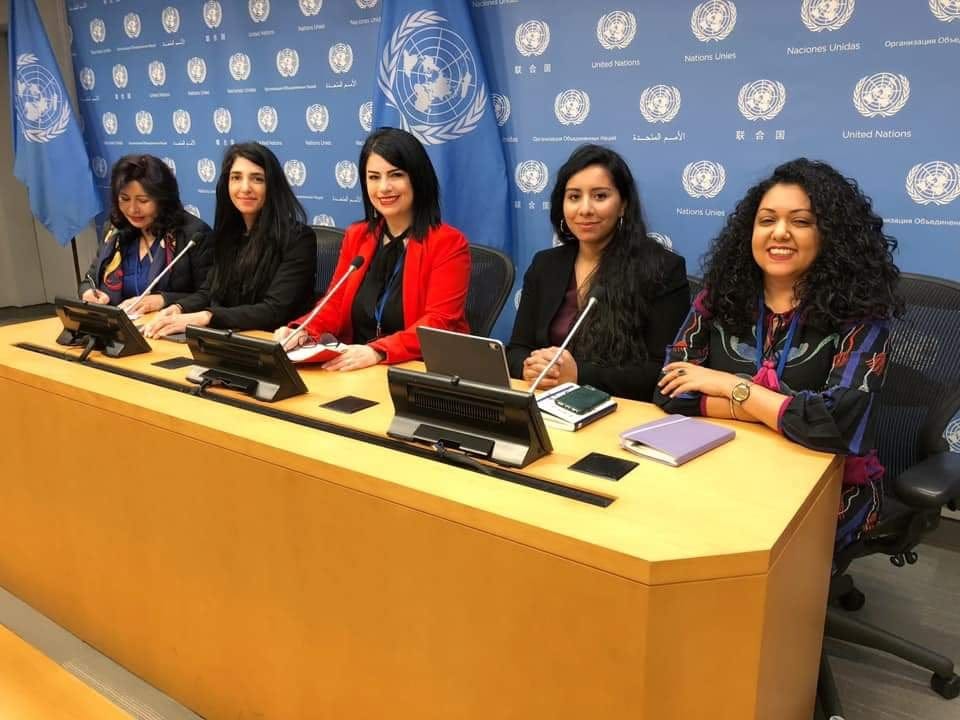 (PWWSD  in the 63rd Session of the Commission on the Status of Women. New York, March 2019)