PWWSD's Participation in the 62nd Session of CSW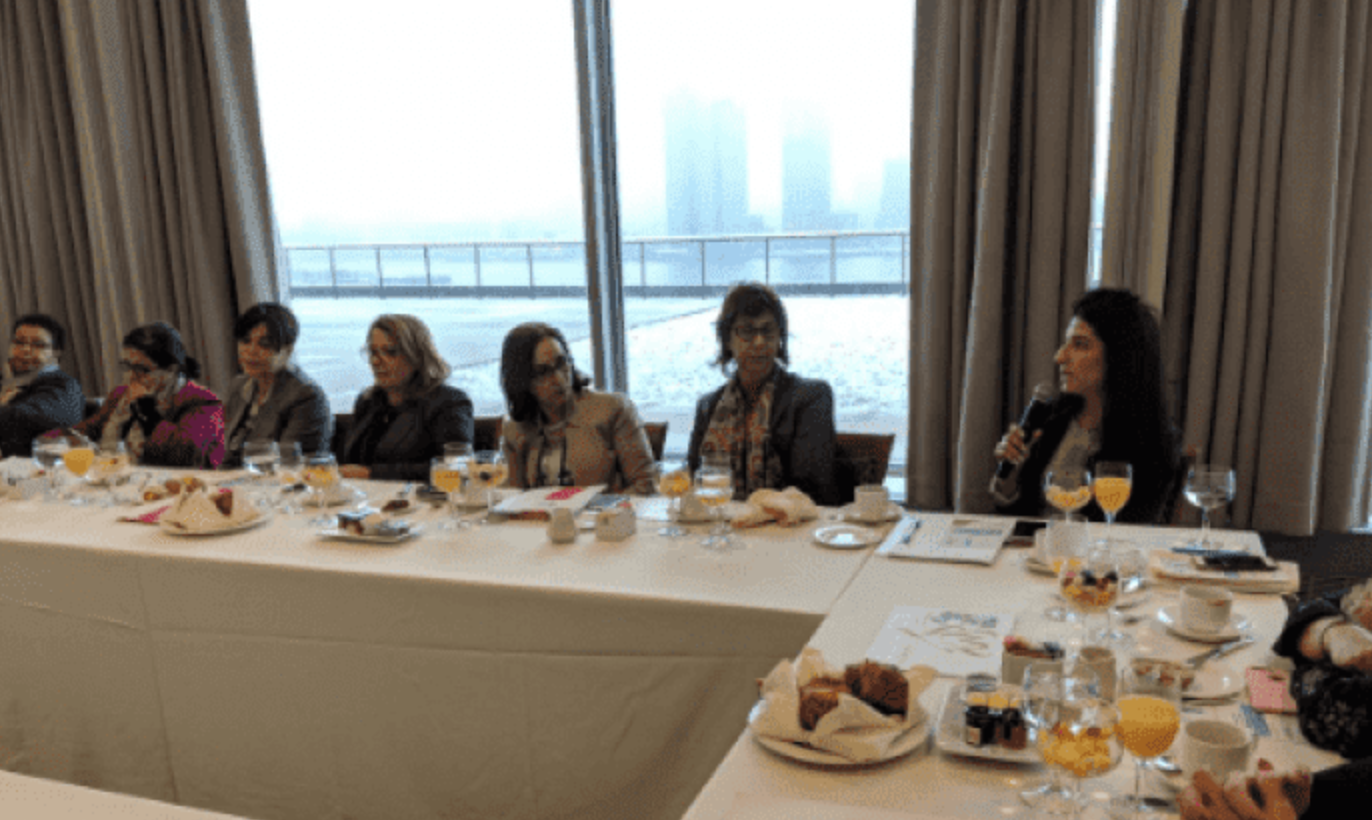 On the margins of the 62nd session of the Commission on the Status of Women (CSW), the Palestinian Working Woman Society for Development (PWWSD) participated on Tuesday the 13th of March 2018 in an event organized by El- Karama in the United Nations Headquarters in New York on women's leadership in the Arab region, co-hosted by the permanent mission of Ireland to the UN, UN Women and the Swedish Institute in Egypt.
Women leaders, activists, jurists, and more paid tribute to Ambassador Mervat Tallawy for her work promoting women's rights and social protections in Egypt and the world. PWWSD's representative, Sandie Hanna expressed on behalf of a young generation fighting for liberation in Palestine that remarkable leaders like Amb. Tallawy are inspirational for young women to rise up to their potential and catalyze change. She further explained that throughout the turmoil of conflicts and injustices in Palestine, the region and the world, the youth and mainly young women need to receive the support to which they are entitled to make their voices heard.
Honorable guests who spoke highly of Amb. Tellawy and her significant contributions included Ambassador Brian Flynn, of the permanent mission of Ireland to the UN who highlighted role of civil society engagement at CSW 62 and important influence of female role models; Dr. Maya Morsi, President of the National Council for Women; and Mohammad Naciri- Regional Director of UN Women who stated " With one line in the constitution, Mme. Al-Tellawi has protected the welfare of millions of people. We're very grateful to her for championing women's rights in Egypt".
Following this event, PWWSD along with key activism figures and CSOs attended a press conference organized by Karama at UN HQ to highlight experiences of Arab women. Key speakers included Dr. Lilian Feidy from Miftah Organization/Palestine who spoke about the impact of global debate and decisions around Jerusalem for Palestinian women. Following, the Libyan Zahra Langhi demanded action from ICC noting the recent call from Netherlands at UN at the Security Council for investigation and prosecution of the murders of Salwa Bugaighis and Libyan human rights defenders. From Lebanon, Brigitte Chelabian of "Justice Without Frontiers" discussed the need for Lebanon to ratify the Rome Statute. And finally, Randa Siniora from WCLAC Palestine highlighted that bringing accountability and ending impunity in the occupation of Palestine are absolutely crucial.
Founded in 2005, Karama is dedicated to promoting women's participation in the Arab region, and to ending violence against women.